You might not have heard of Snapchat, but this app has over 100 million daily users. This is one of the top rated apps for teens and young adults and Snapchat describes itself as the best way to reach 13 to 34 years old.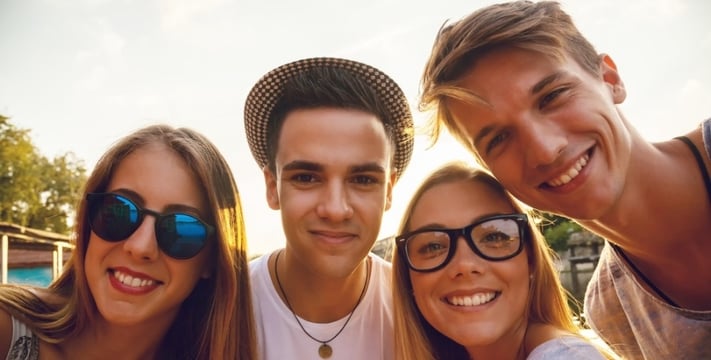 What is the appeal of Snapchat?
The answer is the privacy the app offers. Users can send pictures, short videos, and chat and this content disappears a few seconds after the message is opened, just like the ghost Snapchat uses in its logo. Teens are using this app to stay in touch with friends and it is changing the way these young people communicate––check out some of the fun and creative messages users are sending to each other if you are not familiar with what people do on Snapchat.
What is the draw of Snapchat for advertisers?
Snapchat does not lie when it describes itself as the best way to reach out to the 13 to 34 age group. Here is why your brand needs to be on Snapchat:
Being on Snapchat makes you cool.
This app is how young people communicate and stay up-to-date with what is going on thanks to the curated stories section. You probably already have a Facebook page and a Twitter account––but so do your competitors. Snapchat could be a way to set yourself apart and get young consumers to see your brand in a new way.
Snapchat users are ready to watch video content.
There are over 5 billion videos viewed on this app on a daily basis. And more importantly, Snapchat requires advertisers to create vertical videos. This is the type of content Smartphone users want to see and sadly, a lot of brands haven't caught up to this trend yet and are still making horizontal videos that do not get watched all the way through because users do not want to rotate their phones. Ads play with the sound on as long as the user did not mute their device and content is displayed in full screen. Other ad platforms do not give you the possibility to get the full attention of your target audience like Snapchat does.
Snapchat is growing at a fast pace.
The strongest growth can be observed in the 18 to 24 age range with a monthly growth of 37%. There is also 12% monthly growth in the 35 to 54 age group. The 18 to 24 age group is particularly interesting because these young adults do not have strong habits when it comes to consuming and reaching out to them via traditional ad campaigns is not easy because they are not getting their information like their parents used to.
Snapchat does not want to annoy users with ads.
Instead, users can choose the ads they want to see. Ads are presented along with curated content that is meant to provide users with something valuable and interesting. Snapchat helps you target users by gender, location and in function of their interests by letting you run an ad on a channel or a program. This is a great way to reach out to people who will be interested in your content instead of wasting money on ads that will be skipped or ignored because they aren't relevant.
Snapchat is the future of advertising because it delivers the content that teens and young adults want. People use it to stay in touch with friends, discover curated content that is relevant to their interest and it could also be a way to stay in touch with your brand. The only thing left to do is test the app to see for yourself what Snapchat is like and think of ways to create short and compelling videos that would appeal to Snapchat users!