Slack is an internal communication tool that enables users to set up endless notifications, integrations, reminders, auto-messages––the list of features goes on. One setting allows you to program messages to go out whenever a word or phrase is used by anyone on your team. We set up a few of these auto-messages and they proved very useful. So we set up a bunch.
It started off harmless enough. There were funny Slackbot interjections amidst work conversations, and even a few helpful reminders.

And then it took a turn. A few team members exploited this feature to generate Slackbot responses after a certain person was tagged or any number of unrelated words were used.

Many laughs were had. After our office figured out how this "prank" had come to be by exploiting the settings, it was a free for all, and then it winded down. But if your office hasn't figured it out yet, there's still fun to be had. Here's how we did it.
1. Make sure you have edit access or get in cahoots with a Team Administrator.
"As a Slack Team Administrator, you can also set up Slackbot to deliver useful information when someone types certain key phrases."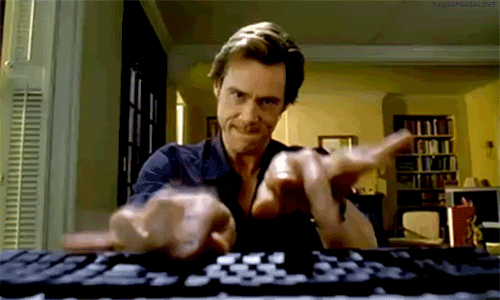 Useful information. Right. This step could be prohibitive if you work at a company who's IT department hates fun. For Hüify that wasn't an issue. We love fun. Our Slack settings are configured so that "all team members can edit Slack responses" allowing team members to customize helpful responses for themselves and terrorize one another.
2. Open your Team Settings.
They appear when you click your team name.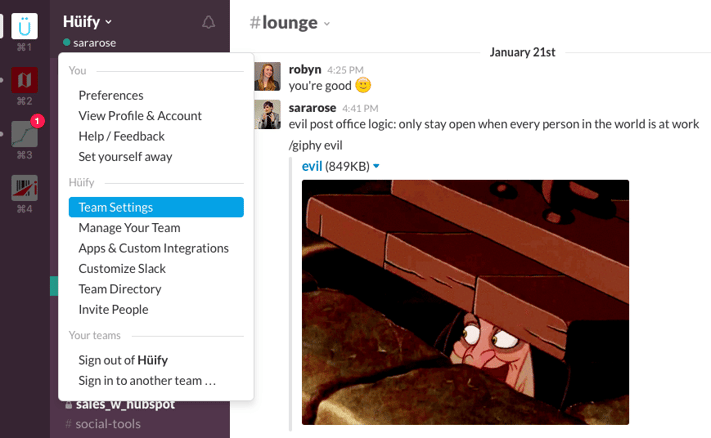 3. Go to Customize and select Slackbot.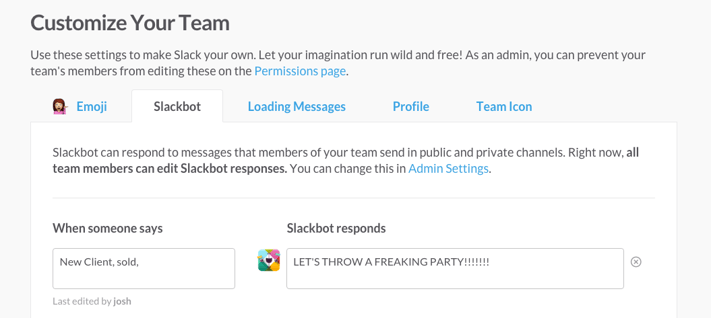 And that's it. Slack allows you to add as many of these messages as your heart desires.
For example, we use the key phrases feature to trigger Slackbot to tag the group when certain terms come up in conversation. When someone says "signed a new client," Slackbot responds with "@group here's the checklist" and a link to our new client onboarding checklist. When someone says "guys" or "team" Slackbot responds with "@group that means you!" so that everyone sees the above message.
We also used it to troll each other. As seen below.

Sometimes you didn't even know what the trigger phrase was. Everyday becomes an adventure.

Our company uses Slack as it's primary form of internal communication at the office. It has eliminated internal email and cut down on text correspondences, literally saving hours of communication time. I couldn't imagine working in an organization without it.
We love Slack so much that we sent them a proposal when we finally decided to go all in and purchase the upgrade for our team. They responded with a love letter and some socks. More laughs were had.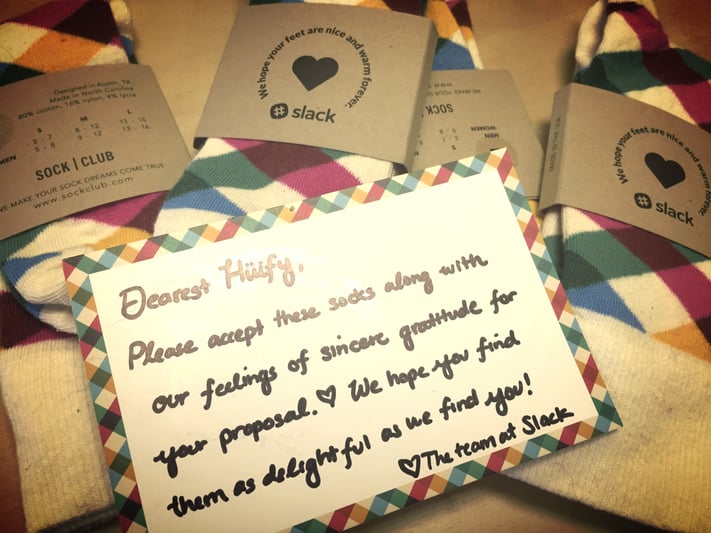 (Another example of why people don't care about your brand, until you give them a reason to. We're Slackers for life now.)
Here's an article that covers the breadth of Slack features you can use to customize the app for your team. If you have an internal tool that your organization finds essential, we'd love to know about it:

@teamhuify

sararoseharcus