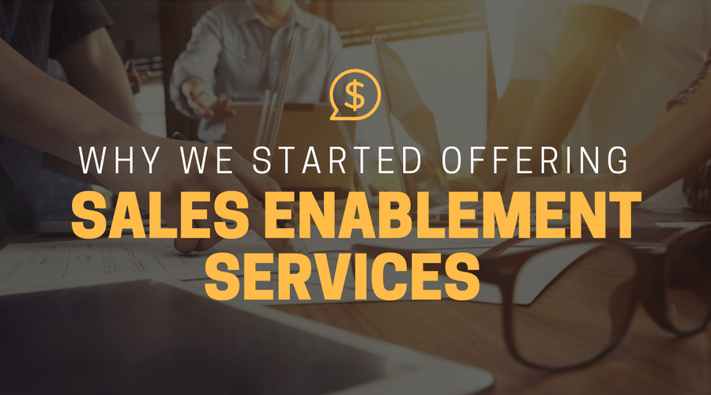 Sales enablement. Everyone is talking about it. Businesses want it. Agencies are trying to figure out how to sell it.

Why? Because at the end of the day, everything comes down to growing revenue and the only way to do that is to close more deals. Since we've started offering sales enablement services to our clients, we've seen a ton of succcess like:
Increased accountability for following up with marketing qualified leads
The newest inbound sales rep outselling the entire outbound sales team in her first month

Increase In Sold MRR by 1,253%

Email sequence with a booking meetings at a rate of 66%
For all of the agencies that are trying to decide if sales enablement services are something you should offer and wondering where to start, we have some advice and thoughts for you.
First, who are we and what do we do?
We are Hüify, founded by Josh and Sara Harcus, now led by CEO Kyle Kramer.
As a top HubSpot Partner for over 4 years, we specialize in working with enterprise SaaS companies, focusing on driving bottom line revenue through inbound marketing and sales enablement strategies.

Our main goal is to help companies truly understand their Customer Acquisition Costs (CAC) and Lifetime Value of a Customer (LTV) so they can scope growth, goals, and investment budgets accordingly.
Basically, we care a lot about our clients' goals and we do whatever is necessary to hit those goals through having a hand in the process every step of the way.
For agencies wanting to expand into offering full funnel services, what advice would we give them?
You have to build services as close to the bottom of the sales funnel as you can. The closer you are to "net new" revenue (aka sales) the easier it is to show an impact, and to get budget approval.
Being successful at lead generation is great, and honestly we're really good at it. But at the end of the day, if they aren't converting into customers and growing revenue, the value is hard to justify. We had to find a way to make sure that the value of our hard work was seen, and that was sales enablement.
How has expanding our services from marketing, to both marketing and sales, impacted our business?
It's allowed us to truly become a partner to our clients. We're much more than just their marketing or sales agency. We're tied to their goals just as much as they are, so their wins are our wins and vice versa. By being this closely aligned, Hüify has been able to increase our retainers by 30% year over year, begin working with household names like Fujitsu, and become an irreplaceable extension of our clients' team.
We're able to help and have a hand in every step of the process a lead goes through––from bringing them into the funnel, to nurturing, to getting them on the phone, to closing the deal. The most success comes from the teams who make sure there is the highest level of collaboration between marketing and sales.
What was the tipping point that led us to the decision to offer sales enablement services?
We had a client that we brought on who, like most, was focusing on growing their lead volume. Through inbound strategies, we crushed it and were able to literally double their leads month over month (100% growth in inbound leads year over year).
...and then they fired us. Because the leads weren't closing. That's the ultimate goal, and that's what we have to help with in order to continue to show our value and drive revenue.
What type of client have we found to be the best fit for our sales enablement services?
Culture and willingness to change is the biggest factor to seeing success. When we reach the point of complete trust on their side through quick wins and being completely transparent, even when it's not what they want to hear. That's when we really start getting somewhere. Our clients have to be willing to trust us and the process we follow because we have a reason for every decision we're making and when we decide to make it.

Along with a cultral fit, being collaborative is a huge factor in seeing success. We're the experts when it comes to goals, process, systems, technology, and content, but our clients are the experts when it comes to their business/solutions.
We work hard to position ourselves as the true definition of a "partner" and team members, so the ability to be transparent and collaborate on which strategies will work best for them really define the best fit clients.
How often do we sell both marketing and sales enablement services together and why do we think that is?
It's really about determining what their goals are...and our goals always involve growing revenue. Usually we find that inbound marketing retainers are the main focus when clients come to us. Everyone wants more leads because "leads = customers." But then when we're able to double their leads, they realize that the real focus should be on closing those deals too.

For clients that partner with us for both inbound marketing and sales enablement services, we are able to be involved and advise from visit to close. With everything being closely connected and communicated, we're able to bring marketing and sales together so nothing gets missed and everyone on the team is bought in.
What are the core sales enablement services we provide?
We break our services down into our sales enablement blueprint.
Goals: define and agree on our objectives and understand who we're selling to
Process: break down and document the sales process, advise on structure and understand how customers buy
Systems: Document and systemize the who, what, when, and how; creating reporting
Technology: Understand what technology is being used to add and take away
Content: Optimize existing content and build new content (templates, sequences, contracts and proposals, homework resources, etc.)
Improvement and Feedback Loop: A constant iteration all five components of the sales enablement blueprint, along with professional and cultural development of the sales team
If you have questions about how to outline your sales process, what our sales enablement services entail, or about where to start––get in touch with us. Our team is extremely passionate about sales enablement and setting companies up for sales success.