When you think of customer relationship management software, you don't typically think of HubSpot. Instead, big (and expensive) names like SalesForce and Microsoft Dynamics come to mind.
That doesn't, however, mean that these CRM solutions actually work better for your business. In fact, we'd argue that the opposite is the case.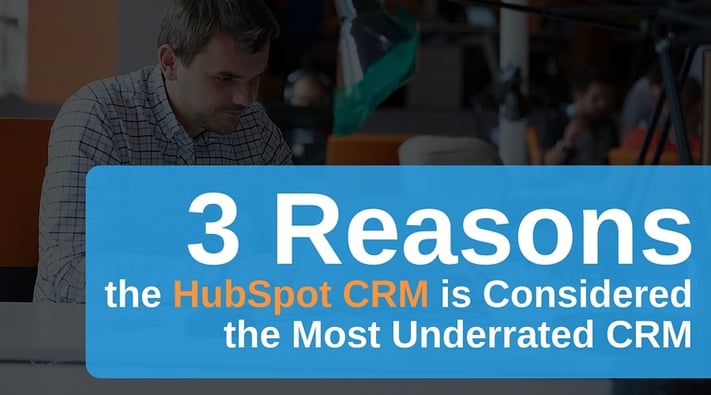 HubSpot's software just may be the best solution for your business. If you haven't considered it, that only means you've underrated its benefits. In fact, here are 3 reasons the HubSpot CRM is considered the most underrated CRM in the market, and why that shouldn't keep you from giving it a try.
1) The Pricing Angle
It's an easy assumption to make: because HubSpot's CRM at least in its basic form is entirely free, it can't be that good. But if that logic is true, how can you explain the overwhelmingly positive reviews on popular sites like G2 Crowd?
The low price, in fact, is among the best features of the CRM, because it enables you to give it a shot. Here's what one reviewer had to say about it:
Honestly, I would recommend trying out this CRM first (it IS free, after all) - and then moving to something more robust if you need to. Be prepared for reps to fall in love with the simplicity and lower amount of "clicks" this provides them.
That says it all: the company is so confident in the quality and intuitive nature of its product that offering it for free is not a deterrent. Try it, and you (and your sales reps) will fall in love.
Also, according to HubSpot's State of Inbound 2016 report, 54% of respondents do not even have a CRM specifically because of their budget and the cost concerns of purchasing a CRM.
The low price point is an advantage, rather than an indication of the solution's lack of quality.
2) The 'Little Brother'
What's the first thing that comes to mind when you think about HubSpot?
It's probably not the company's CRM, but its world-leading marketing automation software. That, in turn, attaches somewhat of a 'little brother' feeling to the customer relationship aspect, and may lead you to discount it as a valid competitor to leading CRM platforms.
We're here to tell you that you shouldn't. If anything, and as anyone using one of its products can tell you, HubSpot's success in the marketing automation realm shows that they know how to build intuitive software designed to help even non-technical marketing and sales staff.
Make no mistake: HubSpot's marketing automation may be a market leader, but its CRM software does not have to hide behind it. Thanks to its capabilities, ease of use, and reporting features, we would not be surprised if the CRM will soon be talked about in the same breath as its big-name competitors.
Meanwhile, some people aren't even thinking about a CRM...
According the State of Inbound 2016, an astonishing 40% of people are still hacking away at Excel spreadsheets to keep track of their leads and customer data. Even more surprising...22% of people still don't even know what a CRM is!
Those that are using CRMs find it hard to understand how some are still trying to manage everything through an Excel spreadsheet, especially for ensuring nothing falls through the cracks. It is clear that having an efficient sales process in place with the tools needed to streamline it is an important step many companies have yet to take.
3) The Lack of Knowledge
Finally, we come to the biggest reason HubSpot's CRM is underrated: a simple lack of knowledge in just how well the software works. We hinted at it above: the software is so easy and intuitive to use that the transition for your sales staff will be almost nonexistent. But the benefits don't stop there.
Integrations upon integrations
For starters, the CRM integrates seamlessly with HubSpot's marketing automation suite, allowing for a consistent customer journey from first-time web visitor to brand loyalist. Even the most establish CRM solutions cannot provide such a comprehensive approach to the entire buyer's journey.
In the State of Inbound 2016 report, "Lack of integration with other tools" and "manual data entry" were the top 2 biggest challenges people said they have with using their existing CRM. And only 21% of salespeople said that their CRM's integration capabilities are considered high quality. Another reason why HubSpot and its CRM are leading the way in sales technology.
Automating processes and saving time
If your company has an employee that serves as a "CRM Administrator", that should be a sign that it's time for change. 33% of people said that they see their sales team spending an average of 31-60 minutes per day simply managing data entry and related manual tasks. HubSpot CRM is a tool that can come with everything you will ever need for something like this, automate your processes, free up your time, and let your sales people spend their time and focus on what matters most: selling.
Customized just for you
Another benefit of the CRM is its customizability. As a system admin, you can easily build customized dashboards for your individual sales reps to connect with their leads and follow them through the funnel. Throughout the process, you can track successful initiatives and run reports that allow you to optimize your sales efforts over time.
In short, the HubSpot CRM does not have to hide from any competitor. That it is not a household is not a reflection of its quality, but simply points to the fact that it's drastically underrated. Give it a try, and you won't regret it.
To see the full report on the State of Sales Technology and more, check out HubSpot's State of Inbound 2016 report. HubSpot surveyed 4,500 professionals to uncover how consumers are changing and how companies must evolve. Download the report for ROI benchmarks, global perspectives, expert insight on how to remain relevant to your customer, and the sales technology you need to streamline your sales process.
Bonus...
Ready to get started with the HubSpot CRM now? Check out our free CRM training video series to quickly get up to speed and ensure you're following best practices.
Watch Part 1: HubSpot CRM Training - Intro & HubSpot Sales (Sidekick) below:
Next Video: Part 2: HubSpot CRM Training - Getting to Know the Dashboard